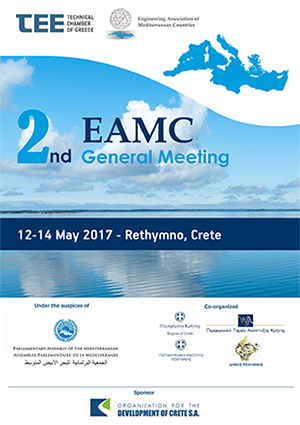 2nd EAMC General Assembly Meeting
12-14 May 2017, Rethymno, Crete

The Technical Chamber of Greece will host the 2nd Engineering Association of Mediterranean Countries (EAMC) General Assembly Meeting, 12-14 May 2017 in Rethymno Crete.

The Engineering Association of Mediterranean Countries aims in developing a partnership between European and Arabian Mediterranean Engineering Organizations, fostering collaboration and mutually beneficial programs, establishing cooperation with WFEO and other International and Regional Organizations.

On May 13th the General Assembly Meeting will follow the organization of a Technical Event under the title "Reshaping Bridges".

All events will take place at the Institute of Mediterranean Studies (130 Nik.Foka & Melissinou st.)

On 14th May a technical visit to water supply projects combined with the tasting of Cretan Delicacies will be offered to EAMC participants by the Cretan Organization of Development.