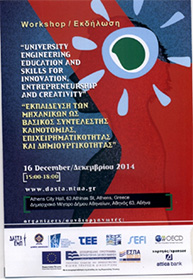 Workshop, Athens 16th December 2014, City Hall


Leading experts from Engineering Education, Associations, Technical Chambers, Industry Construction Sector and local authorities discussed on global problems, trends and policies on ĒUniversity Engineering Education and skills for Innovation, Entrepreneurship and CreativityĒ aiming at strengthening and fostering Academia connection with local labor market and the knowledge alliance with industry, by integrating Education and Employability of Engineers with Sustainable Development requirements.

Prize awards of the 1st Competition of Innovative Ideas and Proposals for the Sustainability in the City of Athens.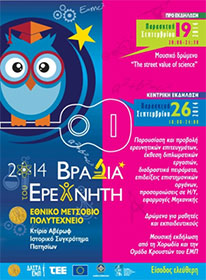 European Researchersí Night 26th September 2014


Since 2005, the European Researchersí Night is a Europe-wide public and media event for the promotion of research careers, which takes place simultaneously in several hundred cities all over Europe on the last Friday of September each year.

The European Researchersí Night aims to bring researchers closer to the general public and to increase awareness of research and innovation activities, with a view to supporting the public recognition of researchers, creating an understanding of the impact of researchersí work on citizenís daily life, and encouraging young people to embark on scientific careers.